Knowledge Management is a pain. A lot of companies try to set-up frameworks, processes, and patches to try to keep knowledge loss at a minimum. However, they sometimes feel that they are spending a lot of resources doing that with no real results. Eventually, someone is leaving abruptly, taking numerous information with him… or a PC crashes with information saved in local drives lost forever…Across my missions, I managed to build a simple framework that works quite well without the need of specific tools or taking too much time to implement. Here are a few advices:
1.1 BUILD A KNOWLEDGE MANAGEMENT PLAN, TOGETHER.
If you don't know what a "knowledge management plan" is, please consult my wiki entry about it. The key point here is the word "together". Because too many time this document is created and maintained by the "project management guru" of the team, and usually falls into some dark corner of the server, forgotten by all relevant people.
This document is something that we have to create will all the team : organize dedicated meetings if needed, or at least present a draft to everybody and take all feedbacks into account. Then do not forget to add bridges linking to this document wherever you can : holidays plan, back-up files etc…
First advice: be pragmatic: again the purpose of this file is to be read and understood by "the guy who is leaving in 2 hours".
Usually, I cover 2 main parts: Hand-overs and Back-ups.
1.2 HAND-OVER MANAGEMENT
Hand-Over takes place when a person is leaving for a long period of time.
In term of content, first focus on global knowledge on the company and the project: where can we find the project's server? The compagny's HUB? Important sharepoints and administrative stuff? Maps of the buildings? Meeting rooms? Think of an intern who arrive in this new area… where shall he start ?
Then, link all possible data on PM knowledge. Few people will arrive as PMP expert, but most will be able to understand what the difference between a WBS and an OBS is, if we give them the links to the PM processes in place, including Project Documents: OBS, Stakeholder Register, Team Agenda. Do not forget to add PM specificities of the company, and the frameworks in place. Templates and methods should be provided and presented by the PMO.
Finally, with the help of the team, go technical: where the newcomer will find data on the baseline, layouts, methods, and tools to be used? Here every team member could help giving you the shortcuts and links to the files they are using. At best, technical knowledge needs to be mapped and transferred by the leaving person, so this process needs to be prepared in advance (usually keep 15min/month to update this document).
Two last advice: Reasonable Timeframe should be secured to enable the handover. (in most case, 2 to 4 weeks are enough) Moreover, a "discovery report" should be completed by the new person to improve the process, and grab new ideas… That will go in the continuous improvement database!
1.3 BACK-UP MANAGEMENT
Back-ups needs to happen when a person is out of office for a short period of time (Holidays, Illness, other mission…)
This should be anticipated if possible, using for example the project team agenda, and main processes to be followed should be mapped with the person supporting the back-up.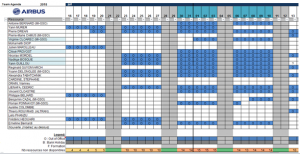 This time, do not bother too much with information on the project/company/technics… The person who will do the back-up will be most of the time part of the team, and then will only need the "who needs to do what when" type of thing.
The best tool I used is an up-to-date one pager with all the relevant information on operational works to be done.
On the first page: summarize frequencies, description of the back-up in 3-4 lines, names of relevant contact to ask information or send inputs, main information & links.
Then do one page per big task, with the associated information, durations, contacts, and links. A good idea is also to include a SIPOC tool, so the back-up will not have to think too much, but just to follow the checklist.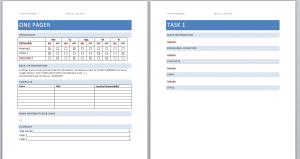 Same as Hand-over, back-up documents should be prepared and available so you can start even in case of emergency.
Also, keep an eye on the workload impact that your back-up will have on your frind's life. The goal is to be pragmatic and reasonable. This guy will not be able to do your entire mission as well as his!
1.4 LESSONS LEARNT
Just a word about this; as it is part of the knowledge management, but quite often forgotten, since it gives his added value only when an equivalent project arrives at the same level of maturity… Just prepare the field by creating a template and a dedicated folder, and including a "Lessons Learnt review" in the standard agenda of the project team (30min/month should be enough, but please send a common meeting since feedbacks are always better when coming from group of people)
Do not forget that sometimes the company has a dedicated way to manage lessons learnt.
I hope those pointers will be useful! Please send me your feedbacks 🙂